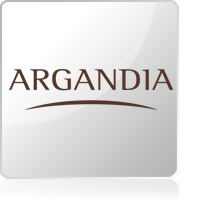 Argandia is an organic and fair trade face and body care brand, created in 2002 inspired by Moroccan women's use of the natural product.

The main ingredient in most Argandia products is argan, extracted form the argan tree which are rich in pure oils with a thousand virtues. In each of its products, Argandia sends you with the utmost care cosmetic benefits of Moroccan flora.

As well as making products made from natural oils with several natural beefits, Argandia also helped create the Argan Fair association for the Berber women: the Argandia is certified by Ecocert SAS which ensures that Argandia complies with social conditions and wages, protection of argan trees and biological quality of argan oil.

Argandia also offers argan oil for culinary use with high nutritional properties and flavour.

Argandia, the cosmetic specialist in argan and opuntia vegetable oils in addition to culinary oils!


Produits de la marque Argandia