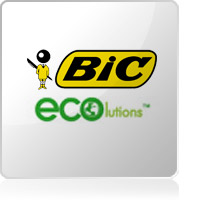 For over 50 years, Bic has been manufacturing original and reliable products for everyone, everywhere in the world to use. From stationery to lighters including razors, Bic products are designed to last and are particurlarly easy to use!

In 2003, Bic implemented a system for sustainable development. Continuing to produce its classic reliable products Bic is now also focused on sustainable management and development, to produce the famous Bic products and protect the environment; Bic Ecolutions!

In recent years, Bic 's R & D team developed their expertise in the field of recycled materials and renewable materials such as bioplastics, for use in paper products (Bic pens, correction tape, post-stick notes and razor) which all form part of the Bic Ecolutions products, a new line of stationery products specially designed with recycled materials.

Bic Ecolutions, line of products that limit their impact on the environment, uses recycled materials, are practical and made to last. Bic Ecolutions acting responsibly and raising awareness!


Produits de la marque Bic Ecolutions