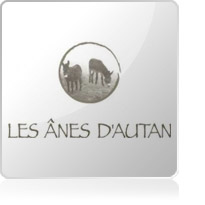 Les Anes D'Autan was created in 2004. The first producers of raw organic donkey milk, the Les Anes D'Autan's product range is unique in France and to french manufacturing.

The Les Anes D'Autan are now also triple certified; Organic Farming, Nature & Progress and One Voice, highlighting excellent production methods and incomparable ethics.

Les Anes D'Autan's ethical and ecological commitment:
- Environmentally friendly packaging without unnecessary use of extra material
- An ethical and socially responsible approach to support rural production and farming to support local farmers
- Respect and care for donkeys
- Auto-ecological renovation and maintenance of local environment
- System recovery of rainwater

Discover the range of Les Anes D'Autan care products, made with pure natural donkey milk that has several beneficial properties and a range that supports local environment and farmers by an ethical brand, shop the Les Anes D'Autan range at Greenweez!


Produits de la marque Les Anes D'Autan