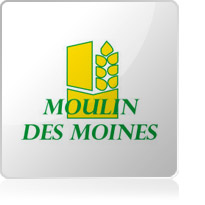 Moulin des Moines is a French company based in the Alsace region, which has been manufacturing organically-farmed products for over 40 years.

The company has always had two main aims in mind when developing its range of chocolate:
- To please customers by providing consistent quality and original designs.
- To focus on the origin of the ingredients used and follow organic recipes.

Moulin des Moines uses a selection of the best organic raw cocoa, which has a low sugar content.

Milk chocolate contains many nervous system stimulants (caffeine, theobromine) and plant sterols. It is a source of potassium, magnesium, calcium, and vitamin B2.

All Moulin des Moines chocolates are made in France using cocoa beans from Central America, South America, and the Caribbean.


Produits de la marque Moulin des Moines